Go Green and Save Green!
When selecting finishes, select the RoHS compliant finishes. They are better for the environment and less expensive!
SL-8400 Line
Push Panel to Lock, Slide to Open
Plastic Slide Latch - 8404
The 8404 Plastic Slide Latch is held in the closed position by spring tension. A stainless steel spring is nested at the back end of the one-piece latch body, and contacts the back edge of the panel hole.
When the panel is pushed closed, the sloped pawl edge meets the support corner and slides the latch back. As the panel closes fully, the pawl clears the edge of the support and the spring slides the latch forward to the closed position.
The panel is opened by sliding the latch back with a finger.
This black thermoplastic latch has a clean, flush appearance. The panel hole is always concealed.
Parts Selection:
Smooth and snug pawl closure is assured by designing the depth of your support edge so that total grip "G" equals .25" ± .005". (6.35 ±.13 mm)
Panel thickness from .043" to .083" (1.09 to 2.11 mm) is accommodated by selecting the snap-clip as presented in the table.
Latch Body
Part Number: 8404-600-BK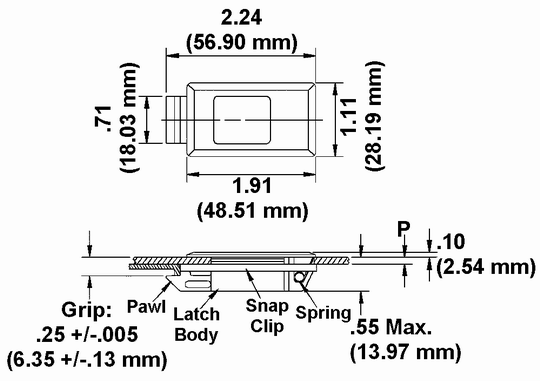 ---
Snap Clip
"P"
Panel Thickness
"T"
Snap Clip Thickness
Snap Clip Part Number
inch
mm
inch
mm
.043-.051
1.09 - 1.30
.125
3.18
8404-812-BK
.055-.067
1.40 - 1.70
.110
2.79
8404-816-BK
.071-.083
1.80 - 2.11
.095
2.41
8404-820-BK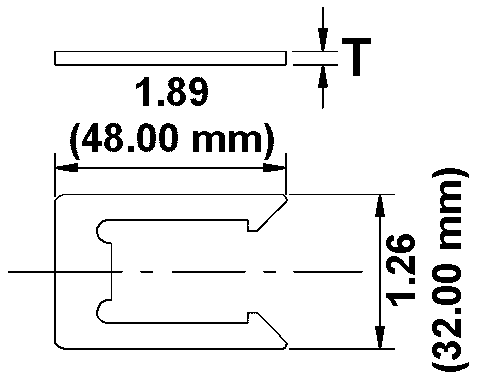 ---
Hole Dimension and Location
Installation:
Place the latch body, pawl end first, into the panel hole.
Push the back (spring) end of the latch body into the hole.
Slide the appropriate snap clip (see the table) onto the latch body underside, starting at the pawl end.